Meet your union representatives!
NICK PUCZKOWSKYJ (he/him) – President
Nick (he/him) is a 4rd year urban studies PhD. His involvement started with GEU by signing up at the first day of university orientation. He involvement has increased his ever since, first by being a steward, then VP of Organizing, and now President. Developing a unified, empowering, empathic, and non-hierarchical approach to leadership, is key to successful labor organizing and community building. Want to get involved with GEU or have questions? If so, shoot him an email at president@pdxgeu.org
What does the President do for GEU?
The president presides over GEU meetings. They report to membership on the status of the union and major executive board decisions. They are a member of all GEU committees and co-signatory with treasurer on all investments and accounts controlled by GEU. They act as the official GEU representative at university and community events. In the case of an emergency, the president has the authority to act on behalf of the GEU, and will notify the membership within forty-eight (48) hours of any action.
The president will be the first point of contact for internal review, and shall lead all internal review process unless they are the member under review. And they will serve as backup and/or provide support for Grievance Officers, Stewards, and the VP for Organizing in grievance proceedings.
EMILY LEICKLY (she/her) – Vice President for Collective Bargaining
Emily Leickly (pronounced "likely") is a research assistant and PhD student in the applied community psychology program. She has been involved with GEU since her first day at PSU, and got her intro to bargaining by observing contract negotiations throughout her first year in grad school. Emily served as GEU Grievance Officer in 2018-2019 and President in 2019-2020. In her research and union life, she believes in the power of community, solidarity, and challenging the status quo. Want to join the bargaining team or have an ideas about our next Collective Bargaining Agreement? Reach her at bargaining@pdxgeu.org
What does the VP of Collective Bargaining do for GEU?
They are responsible for leading the bargaining process and serving as Chair of the Bargaining Team. They chair or designate a representative to chair the Labor Management Committee. As part of bargaining they oversee and coordinate the monitoring, investigation, and research on relevant issues for bargaining sessions. They work with partners and affiliates for bargaining as needed, including cooperation with AFT and other union affiliates. They are the liaison between the Bargaining Team and the Executive Board. And they coordinate and facilitate updates to the general membership on bargaining proceedings.
NOEL VINEYARD (He/Him) – VP of Organizing
Noel is a 2nd Year Masters Student in the Geography Department and graduate teaching assistant. His research interests lie in political ecology and legal geographies of water, examining the political processes by which natural resources are managed. Noel joined GEU in the Fall of 2020 after a brutal Summer working from home, hoping for change.
When GEU called, he jumped in with both feet to try and make some change! Animated by the critical politics endemic to his research, Noel hopes to foster an ever growing sense of solidarity between graduate workers at PSU, and develop GEU membership into a force for good not easily ignored! It will take all us working together to get the contract PSU graduate workers deserve- anyone who wants to get involved with our organizing efforts should reach out to Noel at organizing@pdxgeu.org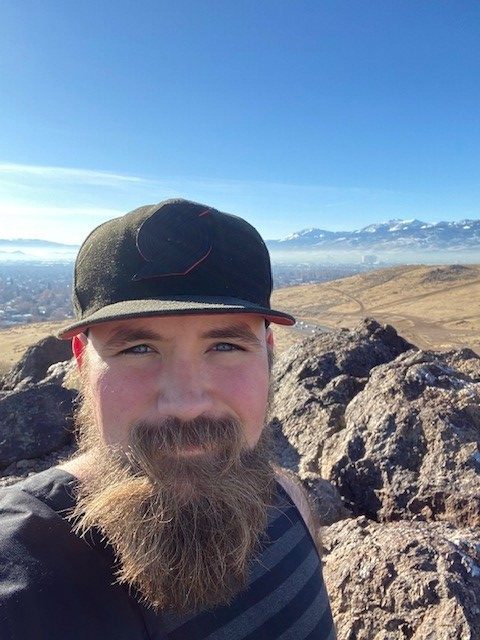 What does the VP of Organizing do for GEU?
The VP of Organizing coordinates and oversees GEU campaigns. They co-chair the Steward Council along with VP of Membership. They represent the concerns of the Steward Council to the Executive Board and carry out the duties of the president in the case of absence or vacancy. They work with the Grievance Officer to educate Stewards on our contract and coordinate steward investigations of contract compliance. And they coordinate resources, material, and regular training for Stewards.
SHELBIE LOOMIS (She/Hers) – Treasurer
Shelbie is a publicly engaged artist and former banker from Art and Social Practices, who focuses on socioeconomic research and creates artwork about forgotten social groups such as the Santa Fe elderly, third-world countries that she has visited, and a social group called the precariat, which includes immigrants, students, and part-time workforce.
She hopes to continue conversations about socioeconomics, gender, social and financial norms and include more people of diversity through education, artwork, and workshops and much more all while keeping the lights on here at GEU. Interesting in joining the Treasury Committee? Reach out to treasurer@pdxgeu.org
What does the Treasurer do for GEU?
The treasurer serves as co-signatory with the President. They will keep GEU financial records secure, accurate, and up-to-date including making quarterly reports on the budget to the membership and the Executive Board. They will communicate with committee chairs regarding their respective budgets. They are responsible for receipt and disbursement of all GEU funds and tracking of purchases and reimbursements. This includes the tracking and management of member dues and the payment of per capita dues to affiliates and coordinating the pooling of GEU funds for other forms of payment or donation.
MINJI CHO (she/her) – Vice President of Operations
Minji is a 3rd year PhD student and graduate research assistant in Urban Studies. Her research interests include communicative planning, social justice, and cultural diversity. She has been involved with GEU since her first year at PSU and looks foward to being the 2020-2021 VP of Operations to provide the organizational support for GEU. Reach her at operations@pdxgeu.org
What does the VP of Operations do for GEU?
The VP of Operations keeps minutes at meetings or arranges for another attendee to do so. They issue notices and handle correspondence at the direction of the President. They keep accurate membership records and are custodian of the GEU seal, charter, and constitution and bylaws. They ensure that GEU paperwork is up-to-date and assemble the Voting Committee when necessary.
JOSE ROJAS FALLAS (he/him/his) – Vice President for External Relations
Jose Rojas-Fallas is an Economics Master's student and Graduate Teaching Assistant. He serves as the Student Fee Committee Chair and is determined to advocate for student interests wherever he can be involved. His academic interests involve behavioral and labor economics. He believes in the strength of organizing, collaborating and advocating through a unified message making GEU a perfect match. You can reach Jose at external.relations@pdxgeu.org
What does the VP of External Relations do for GEU?
The VP of External Relations chairs the External Relations (Solidarity) Committee and coordinates with other locals, including PSU-AAUP, PSUFA, SEIU, GTFF, and CGE. They and the President are responsible for originating
correspondence between the GEU and its affiliate organizations or other external organizations (not including the University or its agents). They assist with the organization of other graduate employee unions, with support from the VP for Organizing and they assist the VP of Politics in establishing and maintaining contact with external political organizations.
SEAN ANDERSON (He/His) – Grievance Officer
Originally hailing from upstate New York, Sean is a computer scientist working on a PhD in formal verification, a discipline that doesn't let computers have any fun. He's served on the grievance committee since fall of 2019, and looks forward to making sure that where the contract is concerned, PSU's departments and administration don't get to have any fun, either. When he gets out from behind the keyboard, he puts on armor and medieval garb with the Society for Creative Anachronism; this year the anachronism is remembering when we got to go outside. If you want to join the Grievance Committee, reach out to Sean at grievances@pdxgeu.org
What does the Grievance Officer do for GEU?
The Grievance Officer serves as point of contact for GEU member grievances and questions about potential grievances and contract interpretation, unless its related to issues of equity and inclusion.
They form and chair the Grievance Committee and document, track and manage grievances. They delegate and track tasks for specific grievances to authorized members. They coordinate contract interpretation with the VPs of Organizing and Bargaining for clarity in the handling of individual grievances and they keep record of potential contract problems in contract language for discussion at future negotiating sessions. They communicate concerns about the grievance process to the Executive Board. They oversee contract compliance education by coordinating research, ensuring that member surveys gather adequate data on compliance, working with the Chief Steward on steward contract education and contract compliance investigations. They and the President originate, review, and edit correspondence with the University or its agents in connection with grievances.

WYNN STRANGE (they/them) – Vice President for Equity and Inclusion
In their work, Wynn brings a queer, decolonial, intersectional perspective and approach. In their academic work, they are working on a project on nonbinary identity documents, and they have done research on wage theft, legal needs, nerd identity, and suicide prevention. In their leisure time they hang out with their dog, cat, ball python, and leopard gecko; they love live music, comic books, TV and film, and just about all pop culture. Is there more that the union can do for Black, Indigenous, Latinx, Asian, disabled, LGBTQI+, and other underrepresented graduate employees? Speak with Wynn or join the Equity Committee by emailing them at equity@pdxgeu.org

What does the VP of Equity and Inclusion do for GEU?
The VP of Equity and Inclusion works with the Executive Board, committees, stewards, and the general membership to foster a culture of respect and inclusion for all members of the GEU community, and represent the concerns of underrepresented members of the Bargaining Unit. They serve as chair of the Equity Committee and oversee implementation of its recommendations and activities. They promote understanding of the intersection of issues of diversity and inclusion as related to GEU policies, procedures, and politics, and create opportunities for learning about all member identities. They represent equity concerns of and to the general membership and Executive Board, and work with Equity and Inclusion Committee to offer concrete recommendations for changes to GEU culture, policies, procedures, etc. In conjunction with the Equity Committee, they oversee handling of grievances related to issues of equity and inclusion as they arise, and encourage members to come forward with equity-related grievances. They also offer support and/or resources for members to work with faculty and staff to expand cultural competencies within departments and within the wider PSU community.
ROBYN REID – Vice President for Communications
Robyn is a mathematics PhD student working in applied mathematics and numerical analysis. Her involvement with the union began as a department steward in the Summer, 2020, where her increased communication led her to learn more about the struggles graduate employees face. This increased her drive to effect change that protected and improved treatment of graduate employees. She is presently training in Jiu-Jitsu and Kickboxing; in her spare time, she enjoys spending time with her dog, Ayala, reading graphic novels, cooking, and playing video games. If you would like to join the Communications Committee or have questions you can reach Robyn at communications@pdxgeu.org
What does the VP of Equity and Inclusion do for GEU?
The VP of Communications oversees all internal communications including the newsletter and social media, among other tasks. The VP of Communications manages and approves (or delegates approval of) official external communications (e.g. press releases, media statements, official reactions/statements) to ensure that they are consistent with GEU messaging and comply with GEU communication policies/priorities, except in the case of urgent communications and bargaining updates from the President or VP of Collective Bargaining. They are the Communications Committee chair and coordinate GEU internal and external outreach efforts, to facilitate timely and coherent communications to members. They serve as the "voice" of GEU, acting as the official spokesperson and the main contact for official communications. This position is vital to ensuring open and thorough communication between rank and file and the executive board.
Position Open – Vice President for Social Engagement
The VP of Social Engagement is in charge of scheduling and planning our General Membership Meetings once a term as well other events through out the year to bolster union culture and engagement. To nominate questions or learn more contact social@pdxgeu.org
Position Open – Vice President of Membership
The Vice President for Membership is a new position we added last year to focus on bringing new members into our union, particularly during graduate employee orientations at the beginning of the academic year. The VP for Membership also helps to increase outreach and steward presence in small or underrepresented departments. They also work closely with the VP for Organizing and co-chair the Steward Council. Have questions or want to nominate yourself for this position? Contact membership@pdxgeu.org
Position Open – Vice President of Politics
The Vice President of Politics monitors political developments relevant to the GEU, and engages and encourages member engagement in political action. The VP of Politics serves as the GEU delegate for local political matters and is the point of contact for endorsement requests and leads the endorsement process. Additionally, the VP of Politics serves as Chair the Political Action Committee and coordinates the Committee's monitoring and research of local, state, and federal-level political and legal developments relevant to GEU, higher education, and labor rights in general. Have questions or want to nominate yourself for this position? Contact politics@pdxgeu.org